We jumped at the chance to interview CEO Jonas Almgren to find out how he started and what plans Artfinder has for the future.  Both Kristin and I are members of Artfinder, a unique global marketplace for affordable authentic art.  Connecting talented independent artists and galleries with art lovers who value craft, quality and originality.  Carry on reading to find out more…
Tell us about yourself, what first inspired your interest in art?
I grew up in Stockholm, and often visited Moderna Museet (first with family, and later with friends), the contemporary art museum in Stockholm with a fantastic modern art collection (including the famous Rauschenberg goat, which is an exciting introduction to modern art for a kid), and my art interest grew from there. Besides the permanent collection, one exhibition that left a strong impression was actually not a contemporary art exhibition, but a J. M. W. Turner exhibition; It fascinated me as I walked from watercolour to watercolour, and the less colour, and the more light they captured, the stronger was the impression. I ended up in front of a painting that was almost all light, almost completely white, and I realised that the ideas that permeate contemporary art are not always as new as they might seem.
Although professionally I'm a technologist, my passion for art has stayed with me since. When I worked in Silicon Valley, I usually went to MoMA in New York at least once a year, but it wasn't more than a hobby until I moved there in 2007 and started interacting with the galleries in Chelsea (Manhattan). That was when I first thought that perhaps a little bit of the Silicon Valley experience could benefit the art market.
We love how Artfinder is great international platform to find and buy art directly from artists, can you tell us a little about how you have grown the platform since it started in 2011?
As any start up, we're constantly experimenting, trying new ideas and new approaches. We're building what is usually referred to as a "two sided marketplace", where Artfinder's role is to make sure buyers (art enthusiast) can find art they love, and seamlessly buy from the sellers (artists). Fortunately, this is not something we have to invent form scratch, as there are many successful online marketplaces, such as Etsy, Airbnb, and Uber, that we can look at and get ideas from. Nevertheless, art is very different than a pair of mittens, a room to rent, or a taxi to hire, so we need to carefully adapt our solution to best fit our audience, and our sellers.
No one has done this before, so we're breaking new ground, which is tremendously exciting! When we launched the marketplace, we had only a handful of artists, and less than a thousand artworks. We now have 2,500 artists in over 65 countries selling close to 40,000 artworks on our site. The speed by which we're growing is of course rewarding, but also challenging, as we now every day need to handle the same volume of orders that we handled in a month at the end of 2012. But ultimately, what drives all of us is the feedback from artists that we help succeed, and from buyers that bought their first artwork, because we know that if we can build an effective marketplace for art, more artists can live from making art, and more buyers will live with art.
What prior experience prepared you most for this position? What have you learnt in the past few years in the profession that you can tell others staring out?
In New York, I came to realise that it's difficult to introduce efficiency and transparency to the high end art market that thrives on opaqueness and personal contacts. To me, it's been much more satisfying to help the artists and smaller galleries that currently have a hard time reaching a global audience, and to help buyers, that often think art is too expensive, find a piece that is just right for them, often surprisingly affordable.
What advice do you offer to new art buyers?
Buy what you love. See a lot of art. Develop your taste. The more you see, the more you learn about your own taste, and the better you get at spotting things that are truly unique, new, and interesting to you. And if an unknown artists tries to charge you over £100 for something in an edition of over 100, don't buy it.
Do you have any advice to give artists just starting out in the profession?
Artists need to create art that is satisfying and true to their own ideas. Don't try to come up with a marketing gimmick, come up with a solid body of work, something that you can proudly speak about, describe, and explain. Work that emanates from you, that is full of passion, and that you can build from for years to come. Create a career, not individual, independent, artworks.
Do you collect art yourself?  If so, which is your favourite piece you own so far?
I collected a bit in New York, but I fell in love with even more. Some of my favourite artists include Ghada Amer, Vik Muniz, William Kentridge, Mitch Epstein, Kara Walker, and Fred Tomaselli. These are all artists that have built a solid body of work, often very beautiful work, and yet much, much more than just decorative. I'm constantly looking for new artists that meet this criteria, that are in the process of building a solid foundation, or that might already be halfway up the building, but have yet to be recognised for what they have built.
What are your plans on Artfinder for 2014?
We want to make it even easier to find and buy art and will introduce new features to make this happen. We will also introduce enhanced abilities for artists to promote themselves and their work, and to reach sellers more effectively.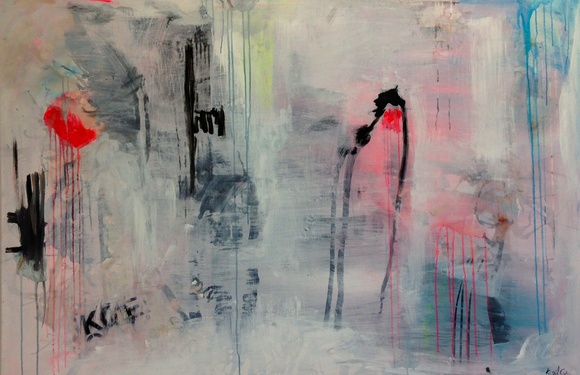 You can also follow Artfinder on